Standard Equipment Package
It will be possible to upgrade any part of your equipment in our dive shop with 20% discount in all prices.
ENDURANCE MAN WETSUIT ONE PIECE 5 MM or equivelant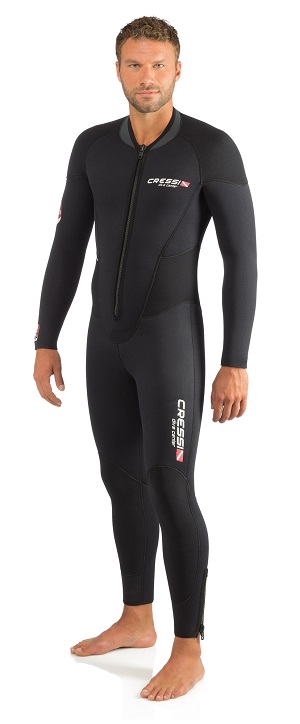 New one piece wetsuit 5 mm designed to meet the demands of many diving centers located in places with tepid waters. It has many features, of probably, the most popular one piece wetsuit in diving centers. Our traditional DIVER wetsuit, but in a hoodless format and with several improvements at resistance level.
BCD Cressi Start Pro or equivelant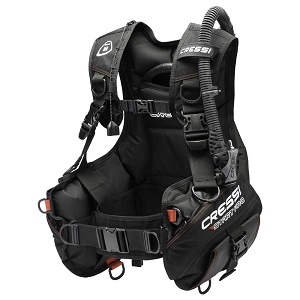 If there is a jacket that is a smart buy, it is the new START PRO, an amalgamation of features traditionally reserved for high end ranges, but at an "entry level" price. The basic version of the jacket has received excellent reviews in dive centers. Now its look has been notably improved with red details and trimmings for multipurpose use by Diving Centers that value their image and by clients and divers who know how to appreciate the essential features in their diving equipment.
Cressi MC9 / COMPACT octopus & console or equivelant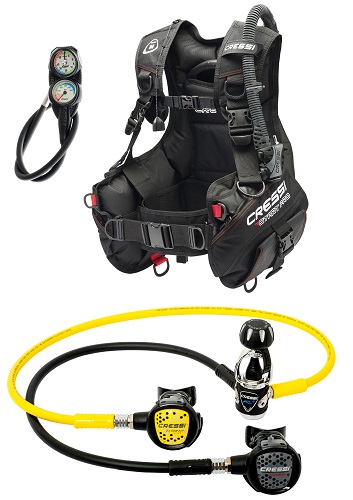 Reliable, light but strong regulator
CERTIFICATION EN250/2000
High pressure ports (HP) 2 - 7/16" Low pressure ports (LP) 4 - 3/8"
Compensation/system: overcompensation diaphragm Flanged filter without circlip
Swiveling turret: no
Air flow 3000 l/min (*)
Intermediate pressure 9-10 bar Intermediate pressure drop (150 bar) 0.5-1 bar
Exterior regulation LP: yes (Allen key)
Weight: Int. 615 g / DIN 480 g
Supply pressure (INT connection) 0-232 bar
Supply pressure (DIN connection) 0-300 bar
Tare pressure 9.2-9.6 bar
Tare regulation scale +/- 0.5 bar
Oceanic or Cressi mask, snorkel, boots and fins or equivelant

Additional equipment package
Dive shop price 830€ - Internship price 650€
Monoshorts
Cressi Dive computer MICHELANGELO or equivelant



bag, gloves, compass

slate, knife, torch