As a Kos Divers Divemaster intern, not only will you learn to Scuba Dive but you will train to become a Professional PADI Divemaster during our comprehensive 4 month programme here on the beautiful island of Kos, in the Aegean Sea, Greece. (The program can be shortened if you require). Once qualified as a Divemaster you will be eligible to assist instructors with student training, conduct open ocean dive tours for certified divers and assist with the day to day operation of a functional dive operation.
We believe the Kos Divers Dive Master Internship
is the most comprehensive and complete package available in Greece
This is a professional internationally recognized rating and your first step to a successful and rewarding diving career with PADI as well as your "passport" to a life of travel and adventure in the world's oceans. We like to think being Divemaster intern, also makes you part of the Kos Divers family. We are all English speaking, however all your study materials are available in a language of your choise.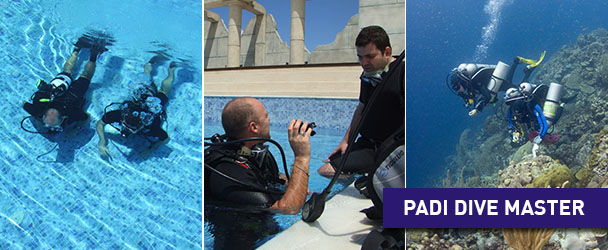 At a glance our Divemaster internship includes
All dive courses

Full set of scuba diving equipment

All student manuals to Dive Master rating

All Fees to PADI

Minimum of 60 dives

Adventure of a life time
Pricetable
To enroll in our PADI Divemaster internship is simple, please check the chart below for your personal requirements, if you don't see a combination that suits you, please do not hesitate to contact us and we will be happy to build your own custom internship.
| Certification Level | Duration | Option 1 | Option 2 | | |
| --- | --- | --- | --- | --- | --- |
| Non Diver | 4 months | 5500€ | 4500€ | | |
| Open Water Certified | 4 months | 5000€ | 4000€ | | |
| Advanced Diver | 4 months | 4500€ | 3500€ | | |
| Rescue Diver | 3 months | 4000€ | 3000€ | | |
Option 1: All inclusive (training, accommodation, standard equipment package)
Option 2: Equipment not required ( bring your own )
Accomodation is not included ( find your own )
*There is no refund for any reason
What can PADI Divemasters do?
Work at local dive centers, on live-aboard dive boats, yachts and at exotic resort locations
Assist PADI Instructors with students
Lead PADI Scuba Divers on guided dive tours
Teach and certify PADI Skin Divers
Teach PADI Discover Snorkeling programs
Conduct PADI Scuba Review programs for certified divers
Lead certified divers on Discover Scuba Diver trips (after successful completion of DSD training.)
Teach Emergency First Response programs after successful completion of an Emergency First Response Instructor course
Responsibilities
Staff dive shop; sign up clients for activities and assist with their retail purchases
Assist with maintenance, preparation & end of day shut down activities
Learn to fill dive tanks and maintain compressors, mix Nitrox (we have a certification course available in this) and inspect/clean tanks
Help gearing up customers with diving equipment
Keep dive shop and equipment clean
Assist our staff with divers, students and other Interns in their programs
Help with the overall customer flow and safety of guest divers
Additional Opportunities
Dive daily (usually once sometimes more)
Practice diving equipment maintance and service!
Spend time on a beautiful island of Kos in Greece!